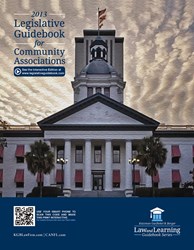 Margate, FL (PRWEB) July 29, 2013
The statewide Florida community association law firm of Katzman Garfinkel & Berger recently announced the release of its 2013 Legislative Guidebook, a valuable addition to its ?Law and Learning Guidebook Series?.
The 2013 Legislative Session was an important one for shared ownership communities throughout Florida with significant changes to the statutes governing all types of associations.
?Our 2013 Legislative Guidebook contains an in-depth look at the changes made to Chapters 718, 719, 720, 721 and 723 of the Florida Statutes,? said Donna DiMaggio Berger, one of the Founding Partners of the Firm. ?As always, we were fortunate to have played a significant role in the bills that did pass which will impact the way our shared ownership communities operate for many years to come. The guidebook contains video messages from the main community association bill sponsors and can be easily viewed and downloaded online at http://www.legislativeguidebook.com.
Categorized by community type ? ranging from condominiums, homeowners? associations, cooperatives, timeshares, and manufactured/mobile home communities ? the 2013 Legislative Guidebook contains clear explanations of the many changes passed in 2013 on the heels of a 2012 Session that produced little new public policy for community associations.
?Our Law and Learning Guidebook Series has previously released a number of titles that have proven very helpful in assisting volunteer board members and association managers in communities across the state of Florida,? said Leigh Katzman, one of the Firm?s Founding Partners. ?Our Florida?s Political Process Guidebook is particularly helpful to communities whose view of the political process as daunting may have previously prevented their meaningful involvement in the process. We recommend that this guidebook be used in conjunction with the annual legislative update in order to understand how these bills become a reality.?
In addition to the annual legislative guidebook and the political process guidebook, other titles in the Katzman Garfinkel & Berger Law and Learning Guidebook Series include: