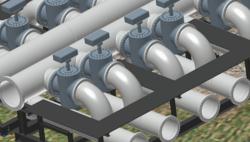 Houston, Texas (PRWEB) July 03, 2013
WeldFit Energy Group recently completed a valve manifold assembly for a tank farm expansion at a terminal near Edmonton, Alberta. WeldFit was chosen for this job because of their expertise in manufacturing extruded outlet headers and because they could guarantee alignment of the fittings before shipping to the field.
The valve matrix manufactured by WeldFit is comprised of eleven, 30-inch main line spools with various size extruded inbound and outbound headers. The extruded outlet design of the headers allows for maximum flexibility of outlet placement and reduces the tolerance variation associated with normal butt weld fittings. Meeting all CSA specifications, assembly was designed, fabricated, dry fit, inspected, hydro-tested, and painted in sections before sending to the jobsite in Canada.
WeldFit?s dry fit assembly process ensured a proven fit and alignment. All fittings were placed in a mock-up assembly at WeldFit prior to shipping. This was a great advantage to the jobsite engineers and project managers who had concerns about weather conditions and space constraints prohibiting complete field fabrication. Field crews only had to place the fabricated assemblies in their respective locations upon arrival. No welding or fabrication of the valve manifold parts was required in the field, resulting in reduced field assembly time and lower costs.
WeldFit Energy Group is a leading provider of extruded outlet products, including hot tap & line stop fittings, extruded outlet manifolds, and heavy-walled tees. Along with its extrusion expertise, WeldFit also provides corrosion resistant weld overlay and has a complete fabrication facility with ASME qualified welders and the ability to machine large and small specialty parts. Based in Houston, Texas, WeldFit is recognized for the quality of its products and is ISO 9001 Registered.
Visit http://www.weldfit.com for more information about the company.