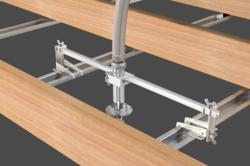 Victaulic, the leading global producer of mechanical pipe joining and fire protection systems, introduces two new ceiling brackets for stud and hat channel hard-lid ceilings, an extension to the existing VicFlex sprinkler fitting line of solutions. The new VicFlex solutions eliminate alignment issues associated with hard pipe drops and hard-lid ceilings, which result in drywall damage and costly repair, while reducing hands-on installation time by as much as 60 percent.
The biggest feature of our new VicFlex solution is the new in-room adjustable center bracket, said Tom Savage, product manager, Victaulic Fire Suppression Systems. This bracket builds on the patented open-gate design that separates Victaulic from the competition, and you are now able to loosen and tighten the center bracket from below the ceiling. This allows the contractor to adjust the height of the sprinkler head after ceiling installation, eliminating the need to cut an access hole into the dry wall and then consequently repair the dry wall.
Reduce the number of visits to the jobsite and eliminate change orders when using VicFlex solutions for either stud or hat-channel hard-lid ceilings. Should an adjustment be necessary after the ceiling is installed, simply loosen the bracket using a hand tool, adjust the sprinkler height and re-tighten the adjustment screw. The adjustment screw is easily visible, even with a concealed sprinkler.
The VicFlex product line offers fast and dependable installation, durable performance and is cost effective for maintenance and retrofit applications. The Style AB2 for hard-lid stud ceilings and the Style AB4 Bracket for hat furring channel hard-lid ceilings are currently only available in North America.
About Victaulic
Since 1919, Victaulic has been the world's leading producer of grooved mechanical couplings and pipe-joining systems. Used in the most demanding markets, Victaulic innovative piping technologies and services put people to work faster while increasing safety, ensuring reliability and maximizing efficiency. The company has 15 major manufacturing facilities, 28 branches worldwide and over 3,600 employees who speak 43 languages across the globe. With more than 900 active global patents, Victaulic solutions are at work in 115 countries across diverse business lines including oil and gas, chemical, mining, power generation, water and wastewater treatment, military and marine, as well as commercial building and fire protection. For more information visit http://www.victaulic.com and follow us on LinkedIn, Facebook, Twitter, and YouTube