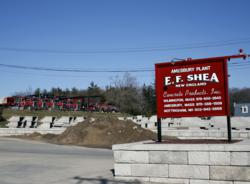 Amesbury, MA (PRWEB) February 27, 2013
Lights, Camera, Action! New England?s largest precast concrete manufacturer will appear on one of America?s leading lifestyle television series, A&E network?s ?Flipping Boston?. Shea Concrete Products, headquartered in Wilmington, MA, will appear on ?Flipping Boston?s? March 16th episode. During this episode, house flippers Peter Souhleris and Dave Seymour help one of their friends by fixing up his house and installing a brand new deck.
?Due to the frozen ground, the crew was looking for a company that makes concrete footings and pylons that can then be dropped into the ground at the house,? Greg Stratis, manager, said. ?They also wanted to focus on the manufacturing process and show how the footings are created and weight is tested.?
On Thursday, January 22nd the cast and crew met with Shea Concrete Products? production manager, Dave DeRose at the Amesbury, MA location. DeRose showed the cast and crew around the plant, highlighting the different processes of concrete being poured and the pylons dropping out of mold. Shea Concrete Products then delivered the precast concrete footings (sonatubes) to the Georgetown, MA jobsite.
?Flipping Boston? premiered on January 21st 2012, and set a record as A&E?s number one highest rated lifestyle series launch ever across the age 25-54 and 18-49 demographics. Since its debut, the show has continued to grow with viewership reaching the 1.2 million mark.
?We felt honored when the folks at ?Flipping Boston? asked us to make an appearance on their show,? Stratis said. ?The crew is fun and upbeat and we?re happy to be a part of it.?
For more information about Shea Concrete Products national television appearance, visit http://www.SheaConcrete.com.
About Shea Concrete Products: Family-owned and operated since 1949, Shea Concrete Products is one of New England?s largest suppliers of precast concrete products, serving both commercial and residential industries. As a National Precast Concrete Association (NPCA)-certified company, Shea Concrete?s manufacturing plants consistently operate at the highest standards of production and quality control. Shea Concrete produces environmentally safe concrete products, including sewage and drainage systems, barriers and curbs, utility structures, and Shea Concrete block retaining walls. Other precast concrete products include bulkhead, side entry, and standard steps. Serving all of New England, Shea Concrete Products is headquartered in Wilmington, Mass., with additional locations in Rochester, Mass., Amesbury, Mass., and Nottingham, NH. For more information, please visit http://www.SheaConcrete.com.