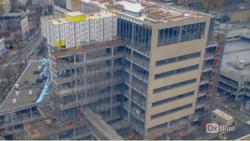 Atlanta, GA (PRWEB) June 30, 2013
OxBlue, a leader in the construction camera industry, announced today its new algorithm for producing time-lapse construction videos. The improved technology enhances the quality and utility of time-lapse videos of active construction projects.
In addition to the professional time-lapse construction video that OxBlue produces after a project is completed, clients can view and share time-lapse videos of their active jobsites online at any time, via a construction camera interface. OxBlue applied the expertise they've gained from producing thousands of end-of-project videos to improve the algorithm their construction cameras use for videos of active jobsites.
The new algorithm provides: