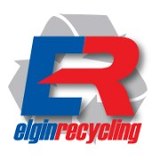 Arlington Heights, IL (PRWEB) April 29, 2013
Elgin Recycling & Scrap Metal expands its services further in the Chicagoland area by adding a new location in Elk Grove Township. The new Arlington Heights recycling center opened its doors on Earth Day, April 22, 2013.
With the launch of its new location, the company encourages residents and businesses within the community to practice proper recycling and disposal procedures by utilizing this new facility, offering a full range of scrap metal and electronics recycling services in Arlington Heights.
Elgin Recycling & Scrap Metal's new facility is fully capable of supporting the recycling needs of the Arlington Heights community. The site is currently operating with a full staff, and is equipped with modern systems and machinery. The Arlington Heights recycling center offers metal recycling services for aluminum, brass, copper, steel, stainless steel, lead, zinc, magnesium, and precious metals, as well as electronics recycling for computers, laptops, cell phones, cell phone batteries, hard drives, modem/routers, and more.
For businesses that wish to recycle large quantities, Elgin Recycling & Scrap Metal offers pick up services by request. The company can provide roll-off boxes, box trucks with lift gates, van trailers, gondolas, flatbeds, gaylords, and dump hoppers.
The family-owned business has been providing recycling services to the Chicagoland area since the '80s. In addition to the new facility, located at 145 S. Weiler Road, Elgin Recycling & Scrap Metal also has full service facilities located in Elgin, Crystal Lake, Gilberts, and Palatine. Find out more about their services by calling 847-741-4100 or visiting http://www.elginrecycling.com.
About Elgin Recycling & Scrap Metal:
Elgin Recycling & Scrap Metal is a family-owned business that specializes in recycling scrap metal and End of Life electronics for the Chicagoland area. The company services both residential and business clients (industrial, commercial, contractors, and jobsite accounts), and accepts walk-in business and scrap metal pick up requests. For more information, call 847-741-4100 or visit http://www.elginrecycling.com/about/.