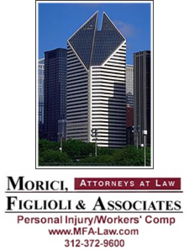 Chicago, IL (PRWEB) June 09, 2012
Ronald McCoy v. Kedmont Water Proofing/Pine Roofing/Third Party Defendant Employer

Bulley & Andrews Construction 07 L 011631 Circuit court cook county, IL (Daley Center).
The Chicago personal injury law firm of Morici, Figlioli & Associates settled a construction negligence case before the honorable Judge Gregory J. Wojkowski on May 31, 2012 for $ 2 million plus a waiver of a $ 900,000 workers compensation lien. The Chicago personal injury law firm?s client, a union carpenter sustained a broken leg requiring surgery on May 11, 2007 during a rehabilitation project on the campus of the Illinois Institute of Technology on 35th Street and Federal.
The plaintiff was injured when the fork lift he was operating tipped over. The defense?s case alleged that the plaintiff held no certification, wasn?t wearing a seat belt, and that he shouldn?t have jumped out of the tipping machine. The defense also argued that the plaintiff was responsible for the lift tipping over due to his own admission of ?having pulled the wrong lever?.
The plaintiff?s Chicago personal injury attorney, James J. Morici Jr. claimed in court pleadings that the reason for the fork lift tipping over was due to improper loading of the debris pan by the roofing company.
The matter was handled by James J. Morici, Jr., who is the managing partner of the workers compensation and personal injury law firm Morici, Figlioli, and Associates located in Chicago, IL. James Morici, Jr. has a long line of seven figure verdicts and settlements to his credit. Morici, Figlioli & Associates is a renowned personal injury and workers compensation law firm that has been recovering fair compensation for their clients for the past fifteen years. Morici, Figlioli, and Associates takes on all types of Personal Injury, Workers Compensation, Auto Injury, Premises Liability, and other forms of injury cases. The personal injury law firm has two locations; the main office is located in the heart if Chicago?s loop at 150 N. Michigan Avenue and another office on the Northwest side of Chicago in the Edison Park neighborhood.