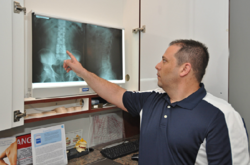 Fort Lauderdale, Fl (PRWEB) June 13, 2012
Leading Fort Lauderdale chiropractor Dr. Jess Neilen is now offering treatment for those in pain after an automobile accident under a personal injury protection lien. The car accident chiropractor at Fort Lauderdale Chiropractic accepts personal injury claims along with several insurance plans including most Major Medical payors, Medicare, and Medicaid.
Treatment can be started same day with the chiropractic doctors by calling (954) 399-6945.
Being involved in a car accident can be stressful to manage, both physically and emotionally. One may require lost time from work due to painful injuries that need neck or back pain treatment consisting of pain management, physical therapy, chiropractic or combination. It may be difficult to find a chiropractor in Fort Lauderdale who works with personal injury victims and accept liens.
Dr. Neilen is a Palmer Chiropractic College graduate with extensive clinical experience who has embodied a comprehensive nonoperative pain management approach in a beautiful office setting.
Services at Dr. Neilen's Fort Lauderdale Chiropractor office include spinal manipulations, spinal decompression therapy, electrical muscle stimulation, ultrasound, class IV laser treatment, whole body vibration, kinesio-taping, massage therapy, and physical therapy. The office treats individuals from all of Fort Lauderdale, Oakland Park, Wilton Manors, Coral Ridge and the surrounding communities.
"It really is a difficult time after an auto accident emotionally and physically, so why make it harder than it needs to be? With all the treatment options and patient care expertise available at Fort Lauderdale Chiropractic, outcomes for pain relief are exceptional. Studies have shown that when people seek treatment sooner rather than later after a car accident, results are better, especially with whiplash treatment. If that can help restore dignity while offering pain relief, that?s the ultimate goal ? getting patients back to living and what Fort Lauderdale Chiropractic strives to do!? said Florida Pain Network CEO David Greene.
Along with treating auto accident victims, the office also has two new patient specials currently being offered. Call (954) 399-6945 for more information and to schedule.