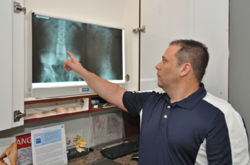 Fort Lauderdale, FL (PRWEB) June 24, 2012
One of the best Fort Lauderdale chiropractor clinics is now offering same day appointments for auto accident patients with a personal injury claim (PIP). Fort Lauderdale Chiropractic has an auto accident chiropractor, Dr. Jess Neilen, offering comprehenisve nonoperative pain management options with no out of pocket costs (in most instances). People should call (954) 399-6945 for scheduling.
Being involved in a car accident can be stressful to manage, both physically and emotionally. One may require lost time from work due to painful injuries that need neck or back pain treatment consisting of pain management, physical therapy, chiropractic or combination. It may be difficult to find a Fort Lauderdale Chiropractor who works with personal injury victims and accepts liens under PIP. Dr. Neilen is right in Fort Lauderdale and has worked with car accident victims for years with expertise in whiplash and neck and back pain from auto accidents.
Options available for pain management at Fort Lauderdale Chiropractic include chiropractic manipulations, physical therapy, spinal decompression therapy, massage, acupuncture, and much more.
The clinic also accepts a considerable amount of health insurance plans, which can assist in patient care after an accident and possibly increase the amount of settlement available to patients at the end of their case. This includes United Health, Medicare, Cigna, Worker's Compensation, BCBS, Aetna, and some Medicaid.
"It really is a difficult time after an auto accident emotionally and physically, so why make it harder than it needs to be? With all the treatment options and patient care expertise available with Fort Lauderdale Chiropractor Jess Neilen, DC, outcomes for pain relief are exceptional. Studies have shown that when people seek treatment sooner rather than later after a car accident, results are better, especially with whiplash treatment. If that can help restore dignity while offering pain relief, that?s the ultimate goal ? getting patients back to living and what Fort Lauderdale Chiropractic strives to do!? said Greene.
After being in an auto accident and having pain, individuals should call (954) 399-6945 to make appointments.