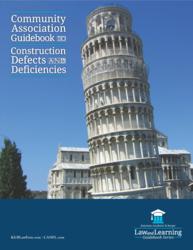 Margate, FL (PRWEB) February 05, 2013
This addition to the popular association guidebook series is designed to assist condominium, cooperative and homeowners' associations with the massive problem of defective construction in Florida. The 28-page guidebook informs volunteer boards and the managers who assist them about the types of construction and design defects and deficiencies which are rampant throughout Florida in new and renovated association construction projects throughout the state. The guidebook outlines the steps associations must take once a defect is discovered, those parties who bear potential responsibility for the defects, time limitations which must be considered, the type of notice which must be provided and to whom, the number and types of remedies (including monetary amounts) available to associations, as well as provides a primer on warranties and other relevant legal issues pertaining to construction defects.
Alan Garfinkel, Founding Partner of Katzman Garfinkel & Berger stated, ?We have found that far too many associations continue to suffer from incredibly harmful defects in both newly built communities, conversions, and older communities that have been renovated. Many of these communities forego pursuing their rights since they are unaware that minor defects may result in major problems or they believe they do not have the funds to pursue these claims."
"Our goal in releasing this guidebook is to arm volunteer boards with the information and confidence they need to pursue their rights and ensure that their members do not shoulder a burden that rightfully belongs to the developers who built or improved their communities," said Garfinkel.
Association directors, residents and managers wishing to obtain a copy of this free guidebook can click this link: http://www.constructiondefectguidebook.com or can contact the Firm at 855-KGB-FIRM (542-3476) to request a bound copy.
About Katzman Garfinkel & Berger:
A statewide law firm proudly devoted to all aspects of Florida community association representation, Katzman Garfinkel & Berger offers Florida communities the opportunity to pursue construction defect cases on a full contingency basis along with a full range of other legal services including general corporate representation, lien collection/foreclosure services and strategies and first-party insurance and property damage claim recovery. Unique in its level of commitment to Florida community association education, Katzman Garfinkel & Berger has been designated as "One of the Most Distinguished Law Firms in America" by Martindale-Hubbell, a peer review rating system spanning more than a century of service evaluating American Law Firms. For more information, visit: http://www.KGBLawFirm.com