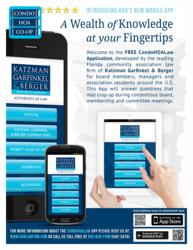 Margate, FL (PRWEB) January 21, 2013
Katzman Garfinkel & Berger (http://www.KGBLawFirm.com), the leader in community association law in the state of Florida, today released the latest version of its free CondoHOALaw Application, or ?app,? to the general public for free, immediate download and use on the Apple iPhone, iPad, iPod Touch, and Android Smartphones.
The original app was designed to assist volunteer directors, managers, and association members in locating pertinent information quickly when needed. The newest version of the app includes all of the content of its predecessor, but also incorporates new tools, such as fully searchable content and a feature that allows users to submit questions directly to the firm. This version of the app also contains the common interest ownership statutes for all 50 states and Washington D.C.
?We received a tremendous amount of positive feedback about our app from users across the nation, and listened to their ideas on how the app could be improved upon for future use,? said Donna DiMaggio Berger, Founding Partner of Katzman Garfinkel & Berger. She continued, ?It only made sense to make this innovation available to residents of every state who have trouble maintaining order at their meetings thanks to the resident Parliamentarian who likes to quote statutes and Roberts Rules of Order without restraint.?
Key content includes: