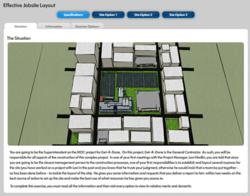 Washington (PRWEB) May 24, 2012
The Iron Workers Union, the Ironworker Management Progressive Action Cooperative Trust (IMPACT) and the Iron Workers National Training Fund (NTF) completed last week the first-ever run of ?Superintendent Training for Ironworkers,? a unique pilot course designed to prepare future contractor superintendents for the challenges of a rapidly changing construction industry.
?A project will reflect its supervision,? said General President Walter Wise of the Iron Workers. "The more highly trained Ironworker superintendents become, the better they are equipped to complete their project on time, under budget and, most importantly, without an injury. ?
The course incorporated a variety of topics and exercises. ?The ?blended learning? approach utilizes online and offline components,? explained Rick Sullivan, IMPACT Director of Education and Training. ?Course attendees were required to complete a series of online exercises leading up to the hands-on segment of the training.? The hands-on component of the ?Superintendent Training for Ironworkers? course was completed on May 17.
?The blended aspect really forces trainees to apply and hone their computer skills,? added Sullivan. The online text, audio and other interactive exercises also facilitate richer, deeper discussions than what Sullivan has termed ?death by PowerPoint.? He said, ?The online training provides so many more examples and pointers than we could easily fit into a 24-hour course using only a lecture and an accompanying slideshow.?
The immersive online component also encouraged more interactivity among attendees during the last week?s hands-on segment of the course. ?Everyone seemed really engaged because they had seen the material before, and because they were able to reflect before discussing each topic,? said Sullivan.
The course required trainees to address both technical and situational challenges that superintendents may face on a jobsite. Technical exercises deal with issues directly related to the construction process, while situational exercises require trainees to think through other common challenges, such as personnel and safety issues.
Trainees left favorable reviews of the course?s online component and praised the innovative nature of the situational and technical challenges. ?I liked working out problems using different perspectives and approaches, seeing that there is not only one answer, but many,? said one.
The Iron Workers and IMPACT will incorporate feedback from pilot course attendees before making the course available across the United States and Canada later this year.
The Iron Workers National Training Fund generously provided financial support to design the course and the associated training materials.
About the Iron Workers Union: The International Association of Bridge, Structural, Ornamental and Reinforcing Iron Workers (IABSO&RIW) was founded in 1896 in Pittsburgh, Penn. They now represent more than 125,000 Ironworkers throughout the United States and Canada. The IABSO&RIW?s mission is to improve the working conditions of its members while promoting constructive relationships with their employers to increase work opportunities.
About IMPACT (http://www.impact-net.org): The Ironworker Management Progressive Action Cooperative Trust (IMPACT), affiliated with the Iron Workers Union, is a labor-management partnership designed to create work opportunities in the North American ironworking industry. Our primary mission is to provide a forum for Ironworkers and signatory contractors to discuss effective strategies aimed to expand job opportunities through innovative labor-management cooperative programs. IMPACT provides expertise in training, construction certifications, marketing, construction project tracking and bidding, insurance and Davis-Bacon compliance efforts. IMPACT also administers a world-class substance abuse program to ensure that Ironworkers are safe, drug-free and ready to work.
###