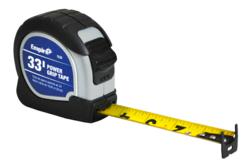 Mukwonago, WI (PRWEB) November 17, 2011
Empire Level Mfg. Corp. introduced a full line of new Power Tapes at the annual Specialty Tools & Fasteners Distributors Association (STAFDA) convention and trade show in San Antonio this week, designed with key improvements that were requested by professional contractors in a company research study earlier this year.
The new Power Tapes build on Empire Level?s successful Power Grip and Power Tape brands that have been best-sellers for years, with new features to improve visibility, durability and productivity on the jobsite. All of the new tapes feature a non-glare nylon blade and large print scale to make them easier to read. They also feature 8 foot blade standouts and the blades are nylon coated for a smooth return and superior wear.
?Professional contractors who participated in our research said that they would love to have a power tape that offered a long blade standout and double-sided hook to make it easier for them to work alone, since their crews are a bit smaller these days,? said Jenni Becker, president of Empire Level. ?With our new Power Tapes, we?re giving them those features and much more, including better readability, durability and ergonomics.?
The 7500 Rubber Boot series of Power Tapes conforms to the hand for better control and features double-sided metal hooks with a reinforced metal bottom and four rivets for superior durability. The chrome 600 series Power Tapes are textured for a better grip.
Retailers will also like the new lock-on clam shell packaging with tri-lingual product information in English, Spanish and French. The 25 and 33 foot Power Tape lengths are prominently displayed on each product for easy product selection.
Empire Level products can be found at retail and online stores throughout the United States, including the new Power Tapes, which will be in stores in early 2012.
About Empire Level

Empire Level is the home of TrueBlue