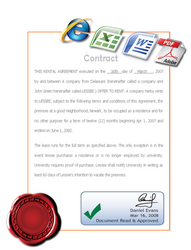 San Francisco, California (PRWEB) March 10, 2010
ARX, Inc., a leading provider of digital signature solutions (standard electronic signatures), has implemented the CoSign digital signature solution at Duke Realty Corporation, one of the largest commercial real estate companies in the US. CoSign was deployed to help develop new web-based collaboration systems that will automate business processes relying on the capture of signature authorizations. These processes include the signing of contracts, change orders, payment applications and lien waivers with construction subcontractors.
As an owner, manager and developer of more than 135 million square feet of industrial and office, including medical office, properties in more than 20 cities throughout the US, Duke Realty oversees thousands of contract partners on behalf of its clients. To optimize its interaction with contractors, Duke Realty designed a web application called ?ConstructionConnect,? where the company can easily manage communication, procurement documents, contracts, and reports with its partners. To maximize the benefits it gains from the online portal, Duke Realty chose to integrate a digital signature system that would eliminate the use of paper documents and enable secure, trusted end-to-end online operations that guarantee signer identity and transaction integrity.
?CoSign?s high-level API facilitates seamless integration with several business processes that require digital signatures, including those that must be ESIGN and UETA standards compliant. Authorized internal and external signers are maintained in our CRM application and easily synchronized with the CoSign appliance,? said Paul Quinn, Chief Information Officer at Duke Realty. ?Our first two business applications generate 1,500-2,000 documents a month with 94% being signed electronically.?
Using the CoSign digital signature solution to simplify and speed up transaction processes, Duke Realty provided their web portal with an increased level of value that significantly improved the customer service experience for their contractors. See a flash demo of CoSign digital signatures for web applications.
"Duke Realty's use of CoSign demonstrates how it is the ideal complement for initiatives aimed at automating workflows, including those that extend outside of the organization," said Gadi Aharoni, CEO, ARX. "With the capabilities CoSign offers, the collaboration between external partners in various geographic locations no longer implies any sort of business delays."
About Duke Realty

Duke Realty Corporation owns and operates more than 135 million rentable square feet of industrial and office, including medical office, space in 20 U.S. cities. Duke Realty Corporation is publicly traded on the NYSE under the symbol DRE and is listed on the S&P MidCap 400 Index. More information about Duke is available at http://www.dukerealty.com/.
About CoSign Digital Signatures

ARX?s CoSign digital signature solution automates approvals affordably in a compliant manner, allowing organizations to go paperless, expedite business processes and save costs. CoSign is the only digital signature solution that is seamlessly integrated with Microsoft